Description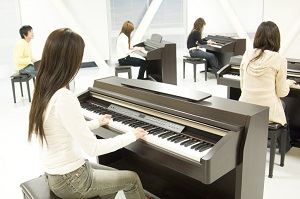 This event has been canceled. 
No, it's not too late to learn something new, and we are so excited that you are considering taking this first step towards learning to play the piano.  Group Piano for Adults is the perfect starter course to introduce basic piano skills to you in a fun, no pressure adult group class!  No former experience with piano or music is needed to join this class, and you will find yourself in a very supportive environment that allows you to work at your own pace. Your instructor, CSI Piano Instructor Sue Miller will work with you to support your individual musical goals while also covering the basics: note reading, basic music theory, keyboard geography (hand placement), technique, and ensemble playing.  Students will also get the opportunity to discover the fun and options involved by playing on a digital keyboard.  This class is for adults or students high school and above. 

Note: Past attendees please bring your book with you to class.